It certainly is a lot of work, but these wagons needed a lot of work done anyway..
Modding older O gauge track sounds the best way to go, the newer closer-to-scale rail may be too short in height. I think Peco SM32 is code 200, for reference.
21/05/23
With the trucks done, I set about converting a few locos. The Accy Baguley's indexed axles made regauging fast and easy.
The RH Fowler
"Victoria"
needed more work. A couple years back, I bought a pair of 32mm RH bogeys for a "quick-change" swap out to visit some of the few 32mm lines in the country. I still hadn't assembled these, so I just robbed the bolsters and axles (taking measurements for later) to use with the tender's existing painted and weathered sideframes and wheels. However, the rear wheelset now fouled on the tender coupling mount.
Some of the timber was shaved off with a knife to provide clearance. Coat of paint in touchup will make it disappear.
Forgetting the chassis kit came with a 32mm trailing axle, I shortened the loco's 45mm axle on the lathe.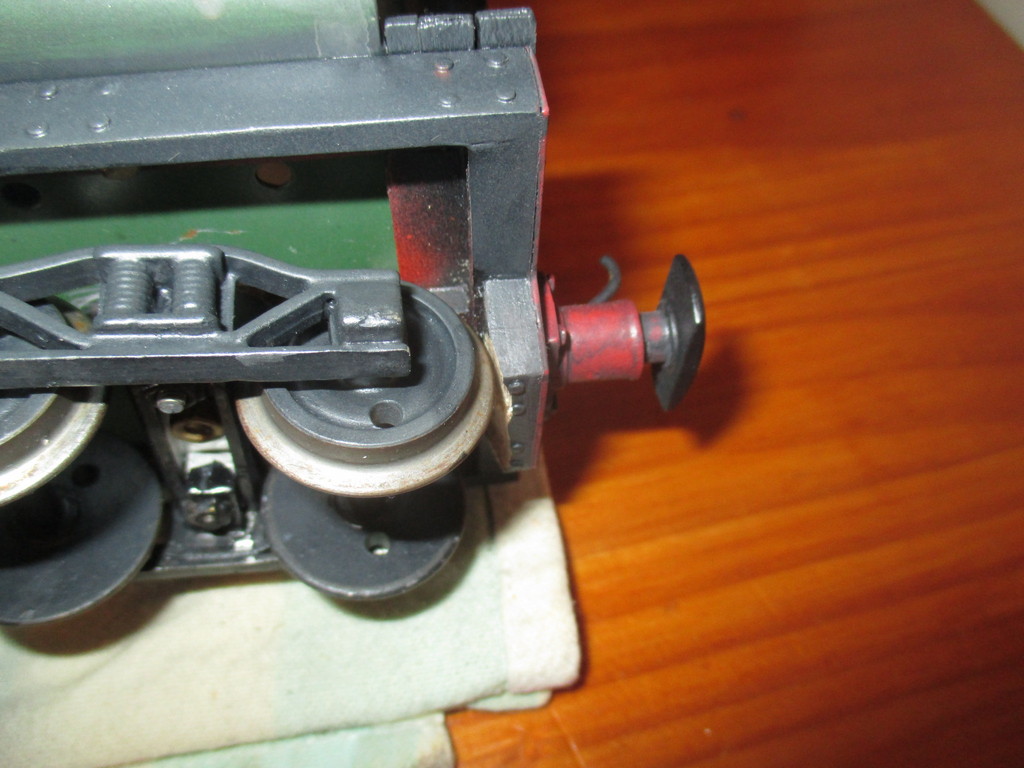 As I've replaced my RH kettles' axle bushings with MF168ZZ ball bearings (narrower than the original bushings) there's now nothing to control axle side-play.
Back when I rebuilt
"Victoria"
, 32mm wasn't on the radar and I was content to let the 45mm gauge wheel centres control the side-play.
At 32mm on the other hand, 2.4mm thick spacers were needed between the cranks and bearings. I machined a set from brass for the Bundy Fowler
"Calloway's"
rebuild last year, as it was intended to be the "travelling" loco, and easily convertible to 32mm. So a second set was now machined for "Victoria", and a third for the future Hudswell Clarke project.
As "Calloway" already had spacers, it needed only refitting it's original trailing axle - it was 32mm when I bought it.
Incidentally, according to my records, I've had the loco three years tomorrow. It's only run once since it's rebuild.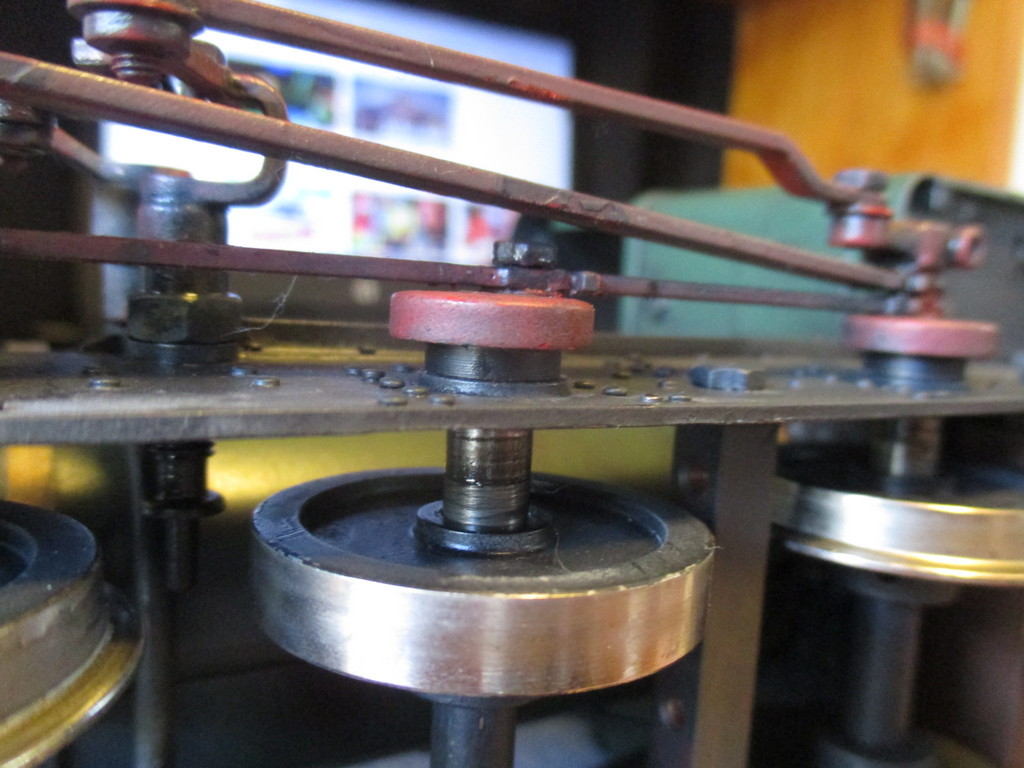 26/05/23
Now having a few locos operable in both gauges (not that I'll likely run them anytime soon), it was time to knock out some rollingstock.
The Mapleton/Moreton-based navvy wagon had it's heavily-rebuilt New Bright bogeys replaced with a pair of Binnie skip frame bogeys, something I've been wanting to use for years. I think they're a perfect fit for a bodged and rebuilt navvy van.
As the wagon was built to accommodate the relatively tall New Bright bogeys, while maintaining a nominal 20mm coupling height, the much-lower Binnies needed 3mm of packing to keep things where they should be.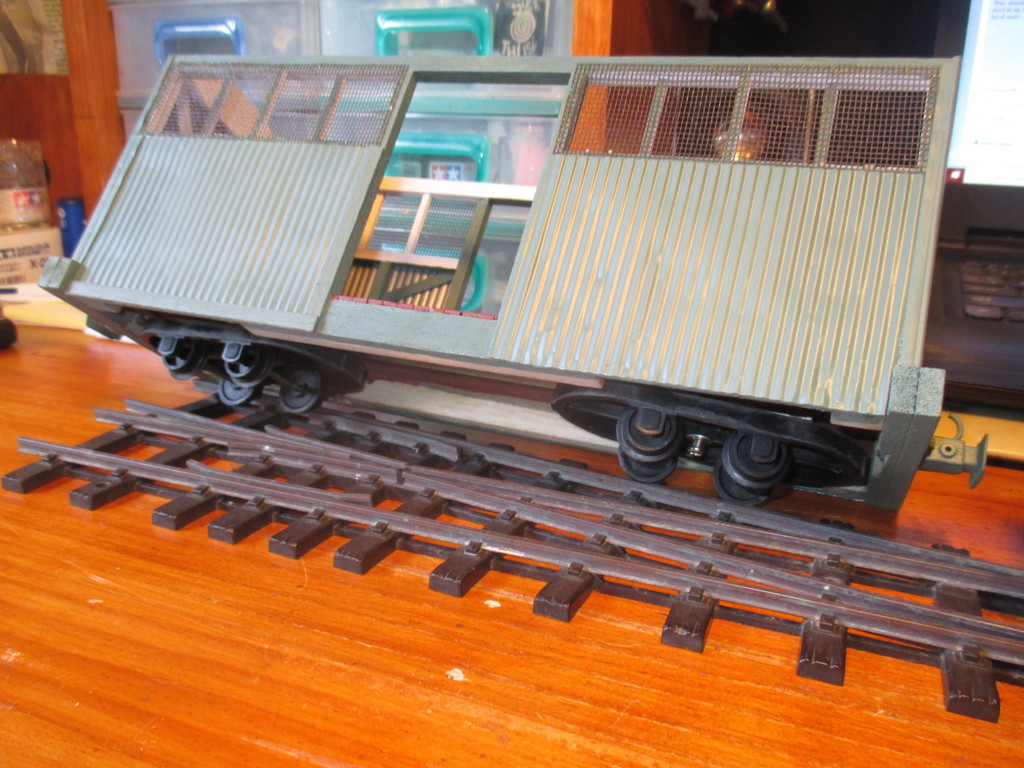 The Port Douglas open wagon's axleboxes were trimmed and fitted between the original frame members, to narrow the gauge and lower the ride height by 3mm. 20mm wheels would've been closer to the prototype, don't know why I used these 24s to begin with. Fitting them now would make the ride height perfect, but painting and weathering them to match would be painful. The drop I've managed brings it within spec, if at the higher end.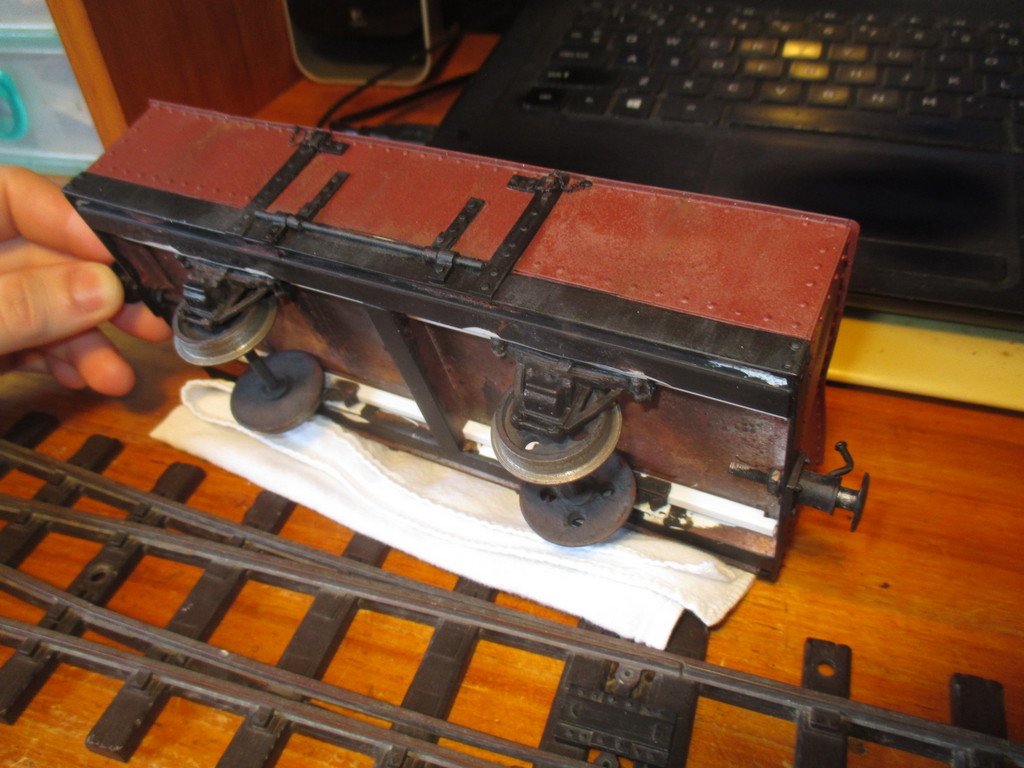 The IP laser-cut Fox-style bogeys were carefully pried apart. I didn't want to shorten and make a new close-fitting tab at both ends of four bogeys, so I just did one end and re-drilled the centre pivot hole. Bit of paint and filler, and no-one will know..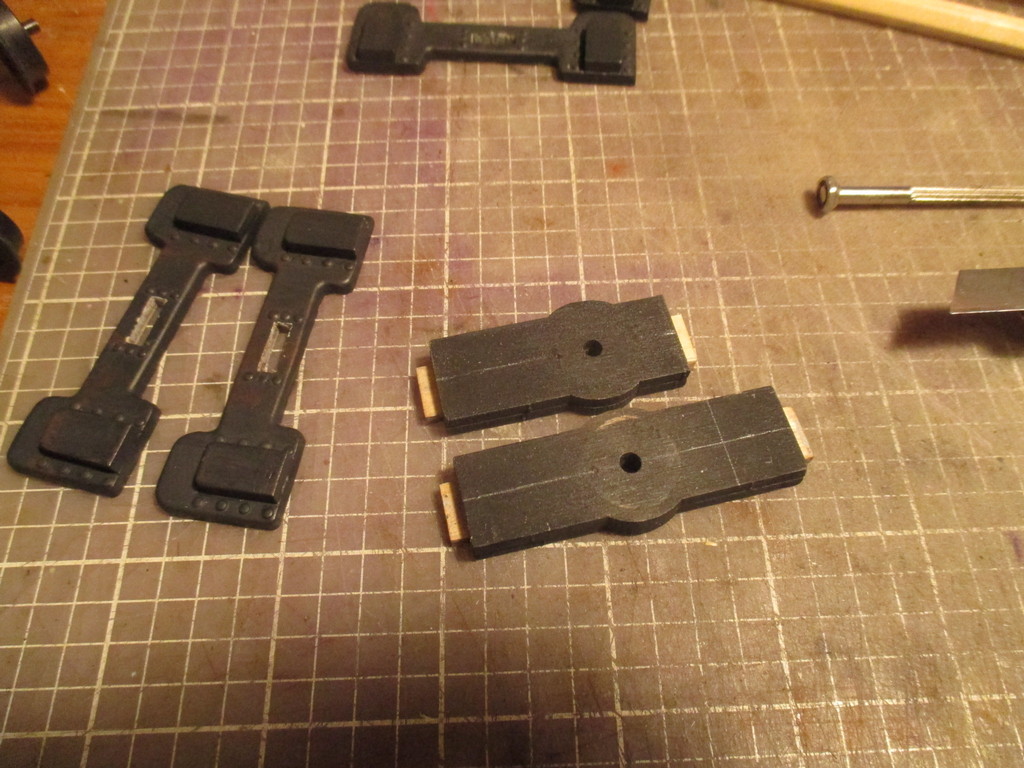 30/05/23
two pairs of RH bogeys were robbed from the repainted toys, and the bolsters were shortened to match the dimensions taken from the new bolsters fitted to
"Victoria's"
tender. The pivot holes had previously been drilled out to fit the toy wagons' mounts.
The crude "slot" in the bolster on the right was made by a previous owner, for use as a Forney trailing bogey under a modified Accucraft Ruby.
Some quick-and-dirty bushings were machined from aluminium so I can mount these bogeys in my usual way with an M3 screw or stud.
I swapped the original steel wheels for 24mm Binnies years ago. These in turn have now been replaced with 20mm Binnies.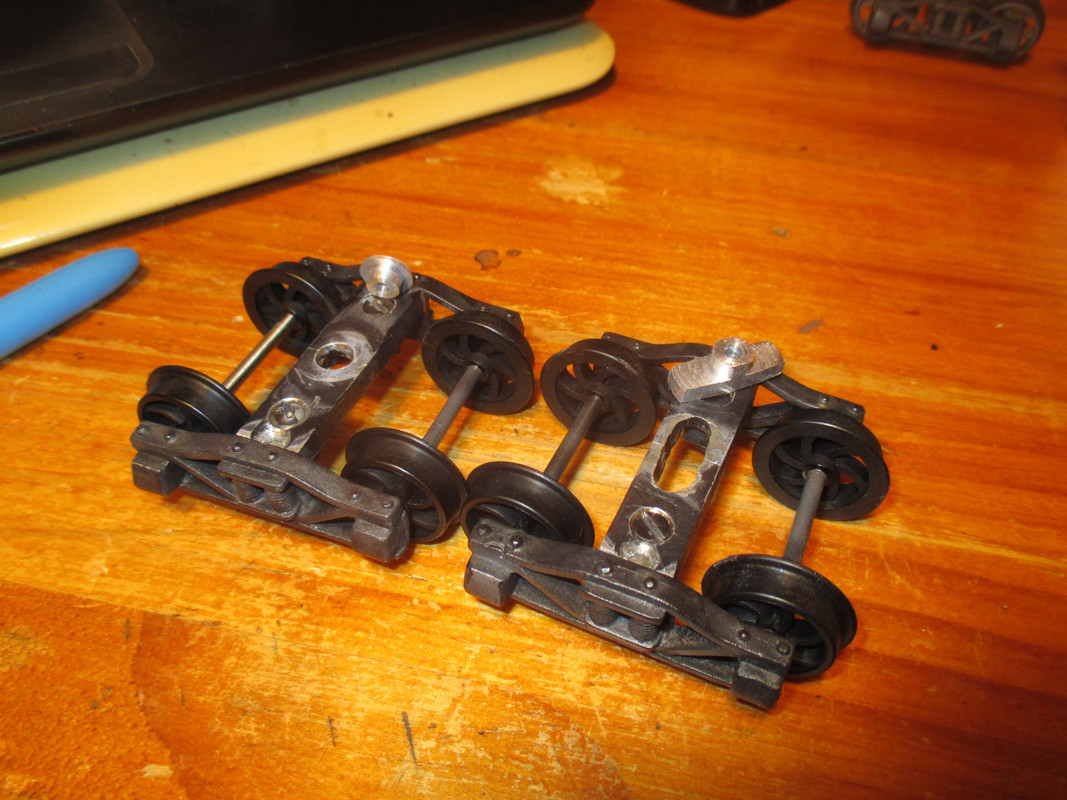 31/05/23
The Fox bogeys were refitted to the Mapleton bogey flats without further change, they too were built to the new height.
I decided to replace the Binne Carmarthen couplings with dumb buffers as used on the cane trucks. Nothing wrong with the Binnies - It's moreso that mills mostly did away with expensive sprung centre buffers by 1900, in favour of iron-faced timber dumb buffers, that they could churn out by the hundreds in their own smithies for pennies.
A loose cane truck makes a useful standard for double-checking coupling heights.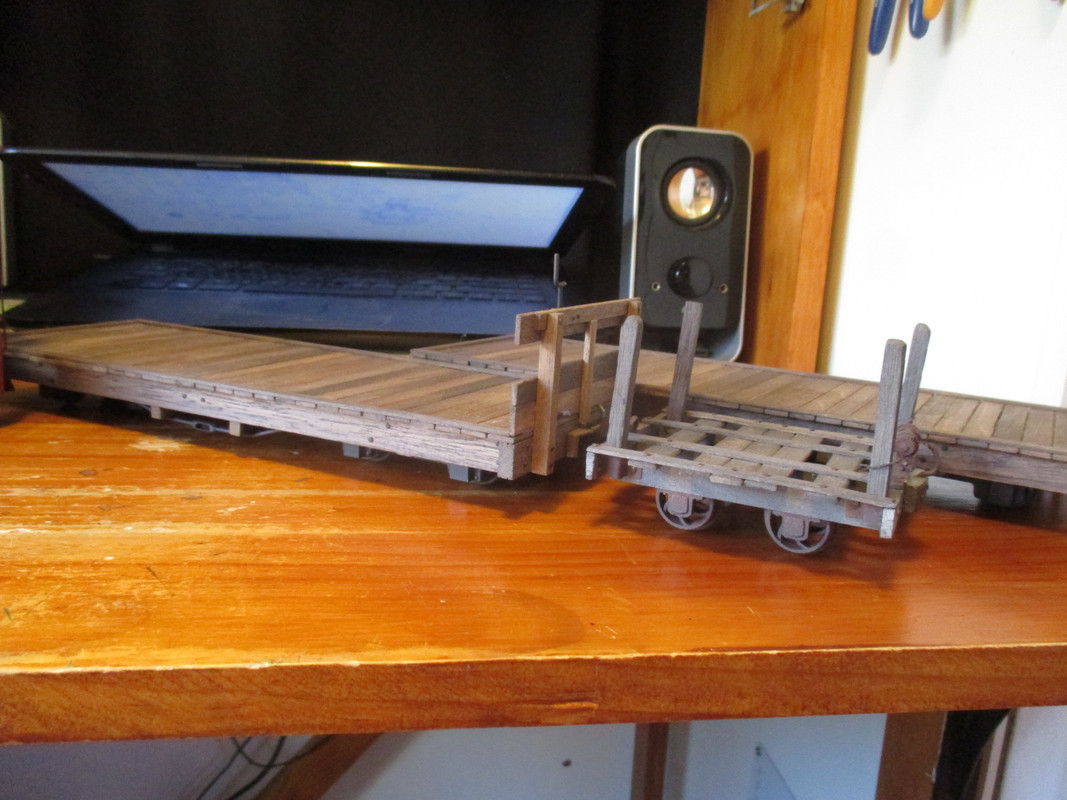 The IP Eng. cast whitemetal bogeys of the tramway coach were split apart and shortened as above. Removed some packing under the floor to bring it down to a surprisingly pleasing ride height. It kept it's cast whitemetal buffers, they're more suited to passenger stock.
The Mapleton-style livestock wagon received a set of dumb buffers, and it's New Bright bogeys replaced with a Roundhouse pair.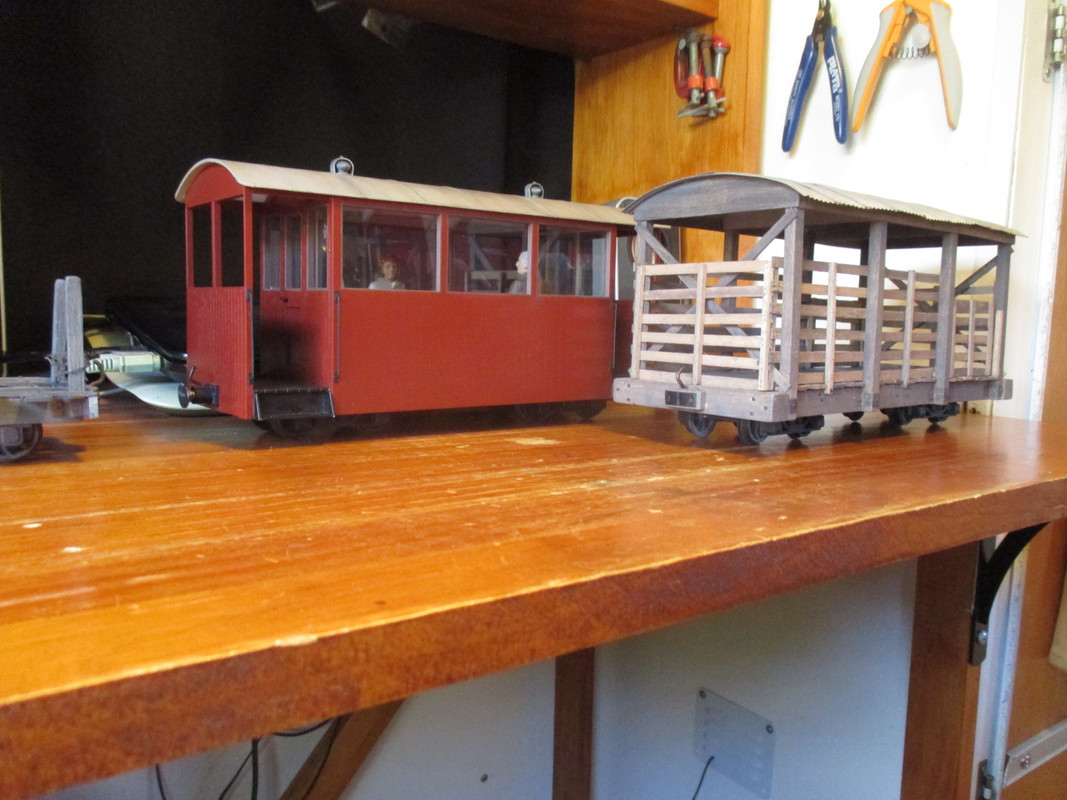 The sweeper wagon's wheels were just pushed closer together. Being a maintenance wagon I don't care how it looks. It's coupling was dropped by 6mm.
The two repainted toy open wagons may no longer be good enough for serious modelling, but they're useful for track construction and maintenance.
I'll convert them to 32mm, but looks won't be a priority on these either.