In late 2020, I was no longer content with my
old wholestick cane trucks
, a rake of ten I'd built in 2016. They sat too high, their proportions were wrong, among other issues.
In any case, I'd like to model sugar mill operations more realistically - with multiple separate trains dropping empty trucks at the cane farmers' sidings, and picking up loaded trucks on their return trips. Obviously I'll need more than ten - Mills had hundreds, sometimes thousands of trucks, so with the need for me to build more, it was a ripe opportunity for a re-design. I've decided on four batches of thirty trucks, to be built over the next two years. This first batch will actually be
fourty
trucks, as I'll need another four for the navvies to use, and six damaged trucks out-of-service, to be strewn about the future mill yard and lineside.
01/11/20
A prototype was knocked up from balsa. Based on a Moreton Mill drawing,
barely
widened for 45mm gauge. Binnie skip axleboxes and 20mm wheels.
The last trucks also used Binnie running gear, which gave no problems, but the Ffestiniog 2-bolt axleboxes were a poor choice, giving the trucks far too high a ride height.
I've found the 16mm scale standard coupling height of 25mm is far too high for a cane tramway - those couplings were (and are still today) mounted very low. I'm slowly working through the fleet, dropping my couplings to 20mm above railhead. At the time of testing the mock-up with other stock, that tender's coupling was still at 25mm.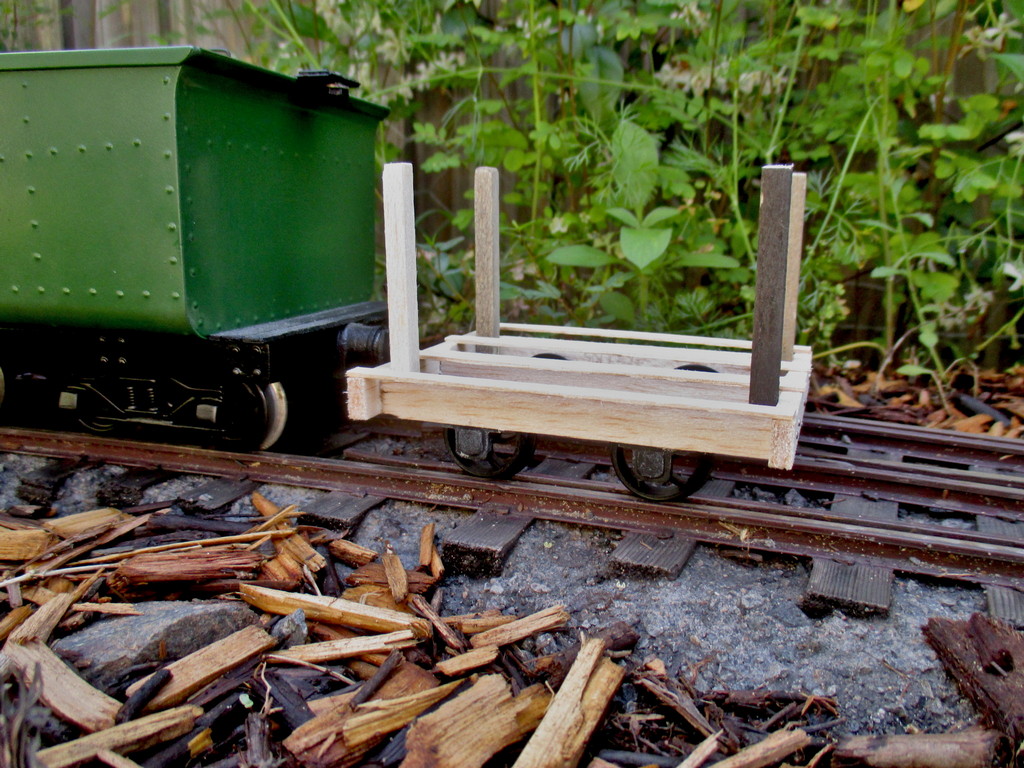 07/05/2021
With the truck project now come round in the queue, I got stuck in. Unlike the last trucks which were made of expensive pre-milled balsa, I'm ripping down Tasmanian oak boards. This way, the timber in each truck is only about a dollar. Used a 7¼ table saw to rip the 12mm thick boards down into strips, small enough for my 2" Proxxon clone to digest. That saw really isn't up to cutting oak, either. For future batches, I'll have to quit screwing about, cough up some serious money for a larger,
actual
Proxxon saw or something, and be done with it.
Most (but not all) parts were then distressed with a wire brush in the drill press. Staining the parts was done by soaking a handful for a few hours in a sealed jar of acrylic wash. The parts were then laid on some scrap PVC to dry. Everything needed staining at least twice.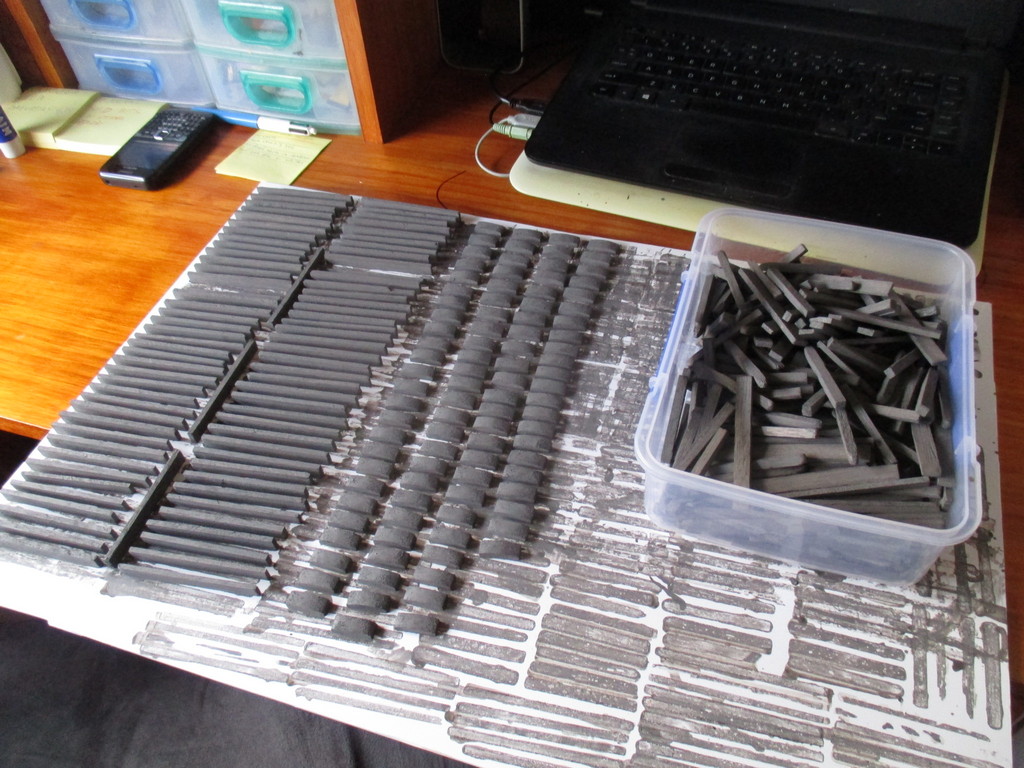 Various jigs save a lot of time and pain. Moving left to right: Coupling arc jig, as each coupling block needs an arc belt-sanded across it's face. The two nails sticking out below the coupling block in the center, mark the parts for drilling their mounting pin holes. Below that, the axleboxes are shown to have had their mounting tabs cut down, to reduce the size of the slots I'll have to cut under each solebar, to accommodate the tabs. The wheel gauging jig also really helps.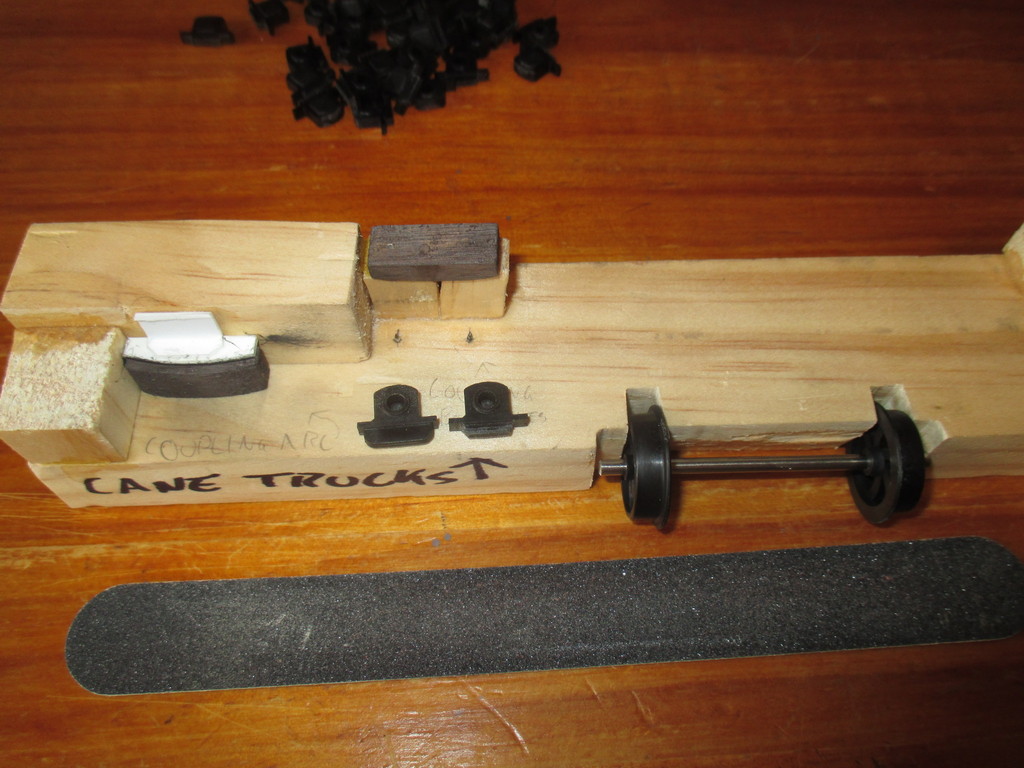 09/05/21
An assembly jig was made from scrap foamboard and popsicle sticks. Joints were glued with PVA, which on joints of this size, is quite weak. Once the glue had set, the joints were gently pilot drilled and reinforced with cut-down dressmaker's pins.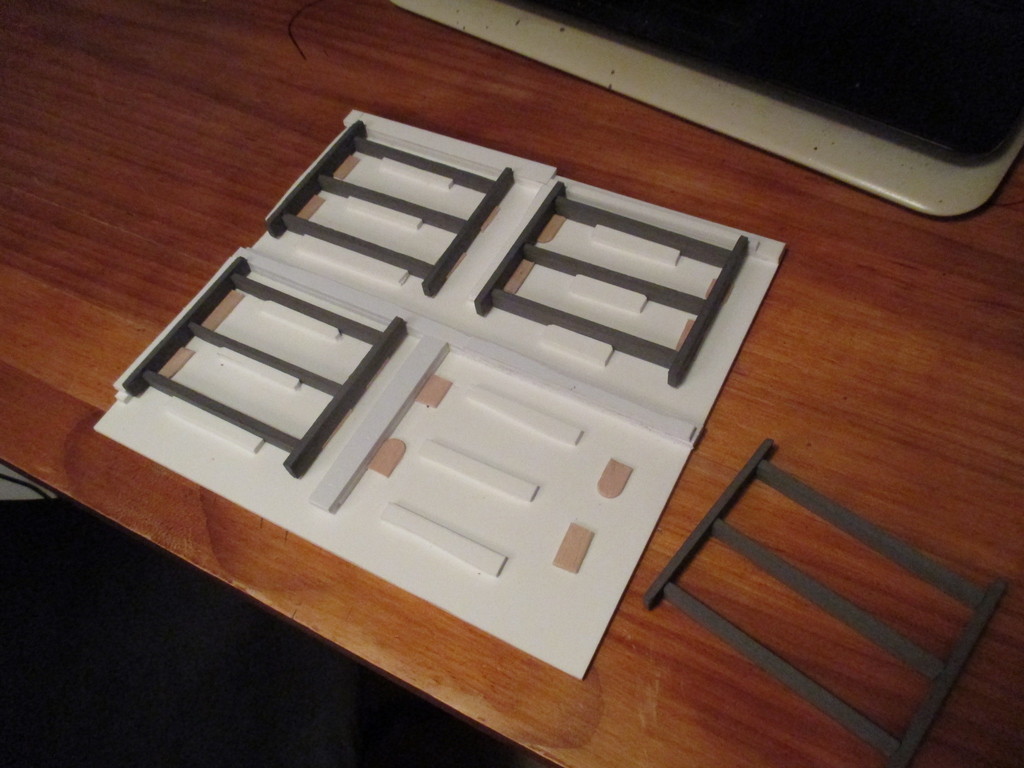 The "metal" parts will need something better than the couple coats of flat brown, used on the old trucks.
Dulux Duramax "rust effect"
paint was surprisingly effective, though a bit reddish. Drybrushing Tamiya's
Hull Red
for some variation, then a more general drybrushing with Tamiya's
Nato Brown
to tone it all down, gives the exact effect I'm after.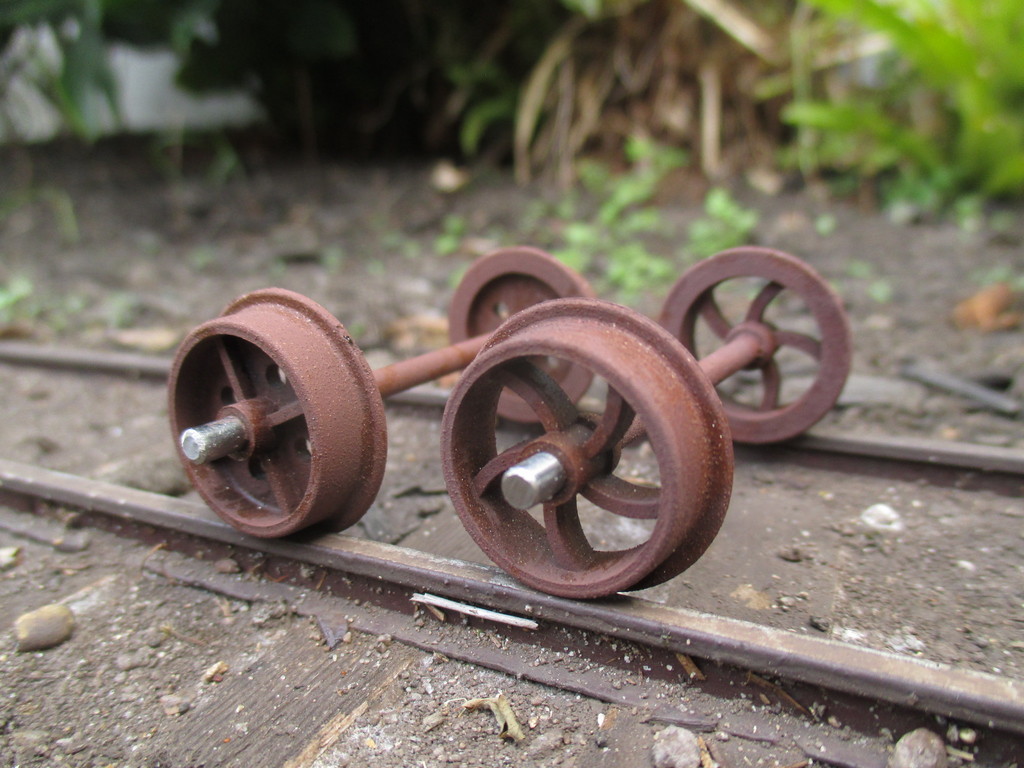 The solebars were marked and slotted with a cutting disk in the dremel, then axleboxes fitted with B-7000 pre-mixed epoxy.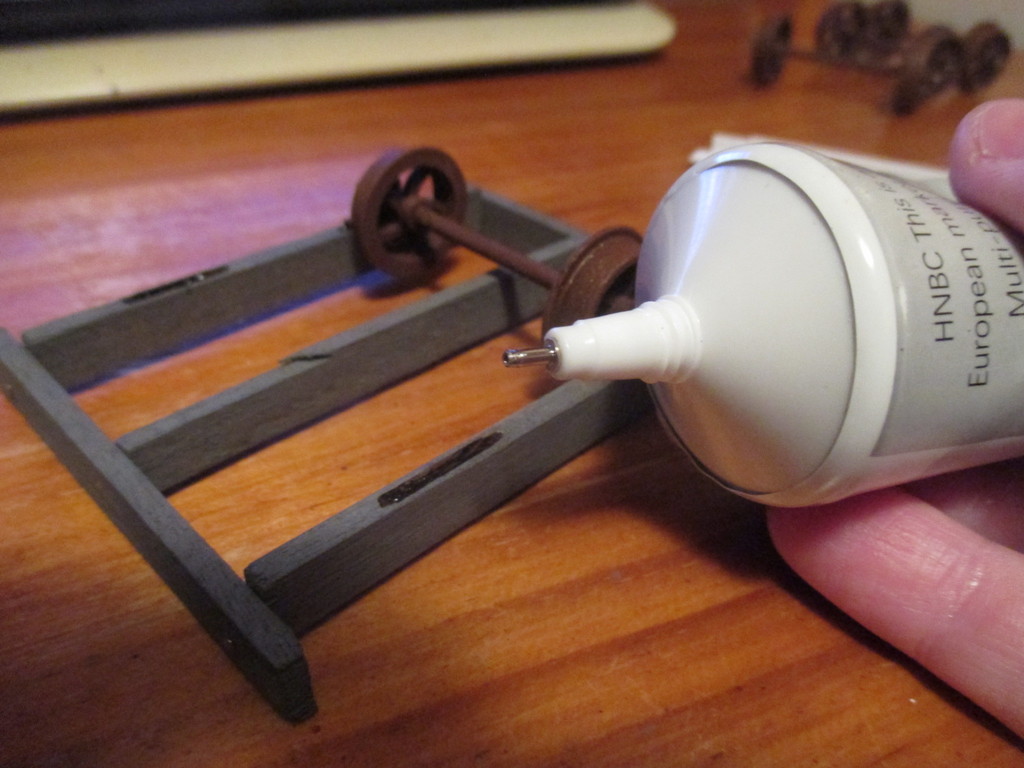 Yet another jig made of scrap, ensures the axles are squarely in the right place. Once the glue has set for a fortnight, the axleboxes will also be drilled and pinned.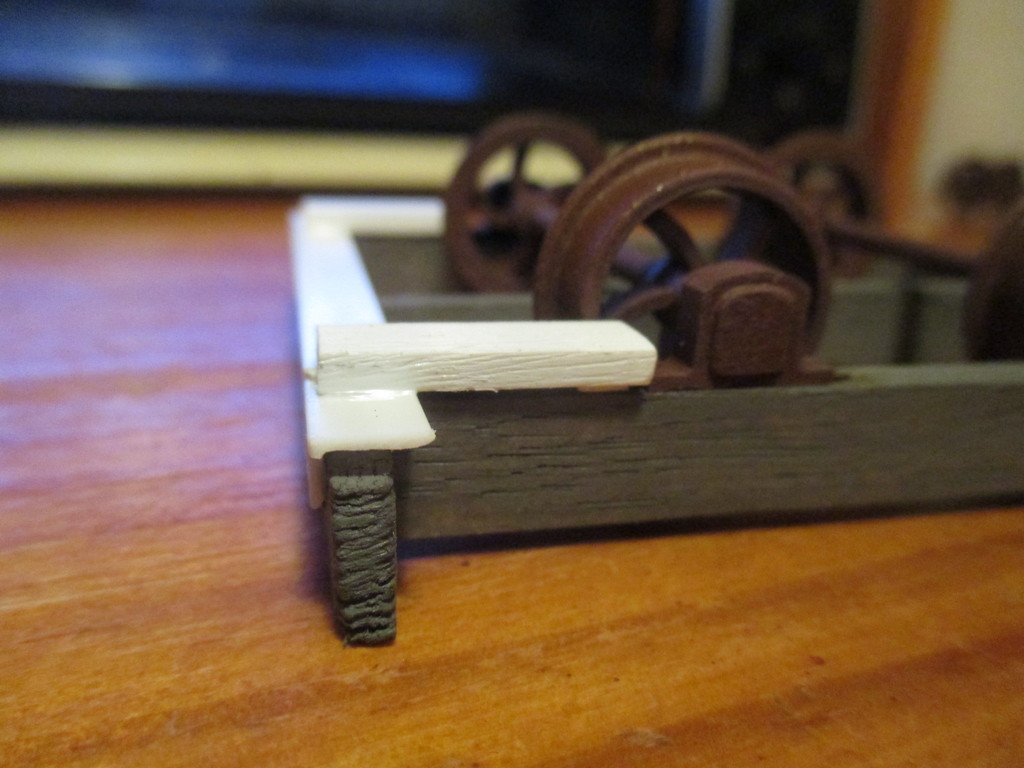 28/05/21
Coupling blocks being fitted, frames in varying stages of assembly and pinning.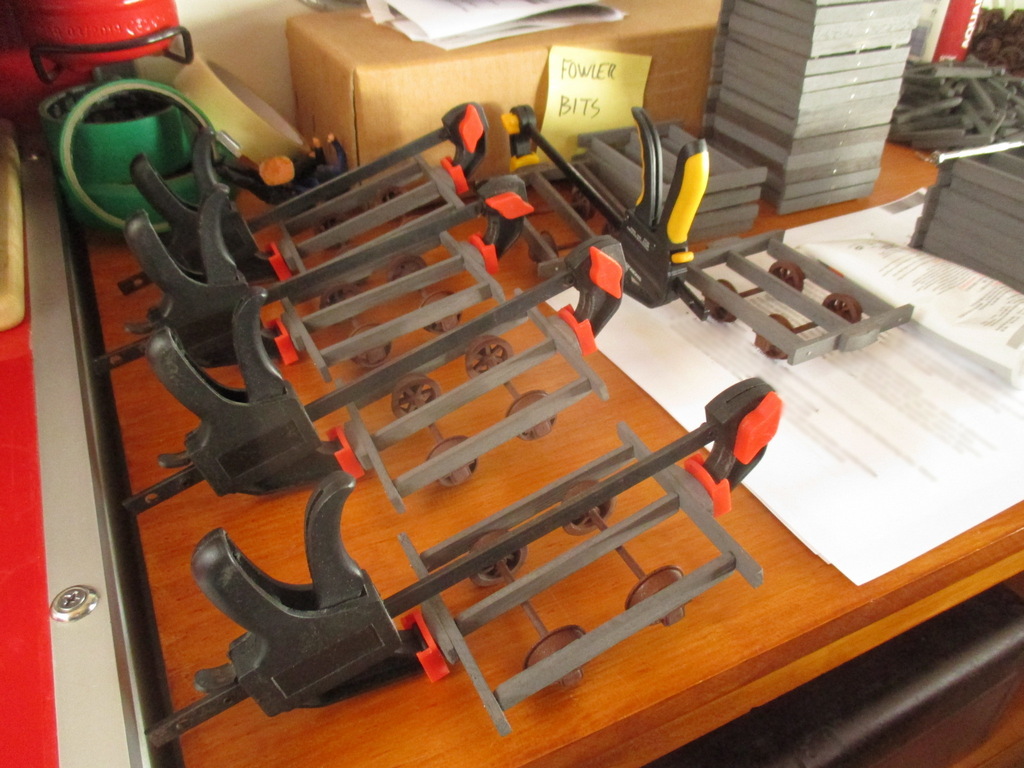 Damaged trucks in the jig, and too many other parts awaiting assembly.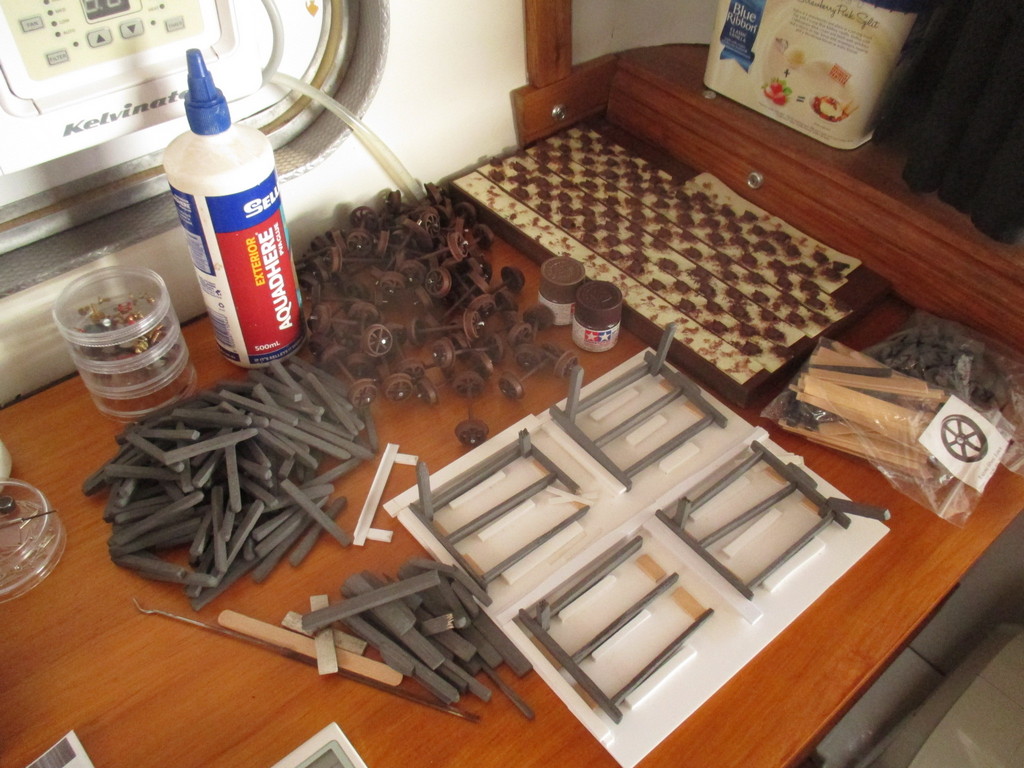 The buffer face-plates have been cut from a thinners tin, but I've yet to finish them. Planks for the tops are also cut.
The old trucks had load-securing chains that would fall off, catch on trackwork, and get tangled in running gear. This time, I'll be building non-operating hand-winches as fitted to the prototype; I've yet to order the parts for those.
A carry box for this first rake will also need to be made, as the plan is for it to be my "travelling" rake when visiting other lines. By the time the other 90 trucks are built, a more permanent wagon shed will exist on the next tramway, allowing trains to be stored and used without excess handling - therefore the box need only hold 30.
I'm also keeping a .txt file in which to take build notes, that will save some mistakes and wasted time on subsequent batches.
This has been extremely labourious so far, with no sign of that changing. It's manageable in chunks of an hour or three, whilst watching or listening to something less tedious.
Anyway, that's a lot of big talk of plans from me, I'd best go live up to them..
Thanks for reading