I got into garden railways with an Accucraft Ruby, as an 18th birthday present from my parents. This loco and it's 45mm gauge were chosen based on cost and availability
*
here in Australia, and the prevalence of people running G gauge track, over a mere handful of 32mm lines in the country. My early scratch-built locos and stock were also 1:20:3 scale, but modelling 3ft gauge really doesn't work for modelling a Queensland sugar cane operation, which have always been 2ft.
Even looked at the possibility of converting the Ruby to 32mm - would need a mill to make a proper job of it though..
I've lived with the discrepancy for years, calling my models "2ft6in with a rubber ruler", trying to distract myself by making the detailing and weathering the best I can. But it's not enough, 45mm still looks too damn wide for me. Being "between layouts", so to speak, made for an ideal (or rather least painful) time to bite the bullet and convert to 32mm.
*The availability of 45mm stuff in Aust. is moot - if it's not plastic G scale mainline stuff (useless even as bashing fodder for cane trains) it's well overpriced, even most used stuff. Only way I've been able to model in the garden at all, on a disability pension, is by importing everything from the UK suppliers.
I'd get rail and joiners from the Yanks for handlaid track. The only difference going forward, is the track I buy used from the UK will be narrower. I digress..
A hard look was then taken at the locos and stock on hand. Some are gauge-convertible, others will need rebuilding or even replacement.
Re-gaugeable, 1-day conversion
Fowler
"Victoria"
, Bundy
"Calloway"
, Baguley, Decauville (Unstarted) Hudswell Clarke (Unstarted)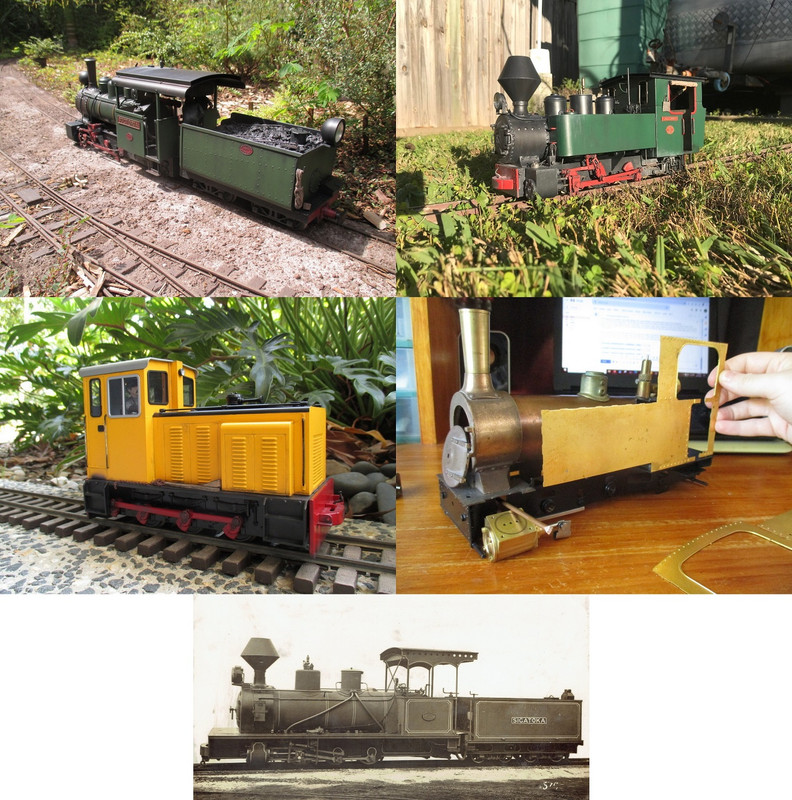 The Essel Fowler is re-gaugeable, but I've squeezed a speaker enclosure between the wheels at 45mm, so will need the speaker relocated or replaced with a smaller one.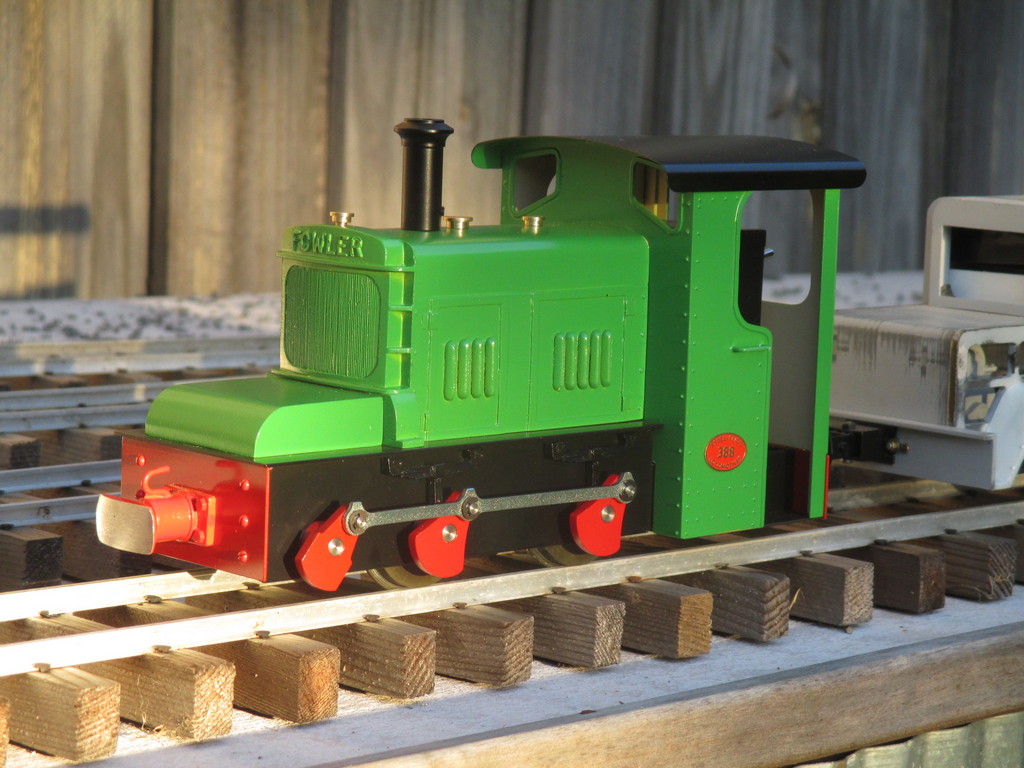 Not re-gaugeable, conversion involves extensive work, but I'll make it happen.
Bundy Jenbach JW-15 (Unstarted), Pair of Stainzes (Unstarted), IP Simplex (Unstarted), IP Hudson Hunslet (Ironically converted from a 32mm-only kit!), PDF 50HP Baldwin, O&K mallet (Unstarted, uses two LGB O&K 0-4-0WT motor blocks)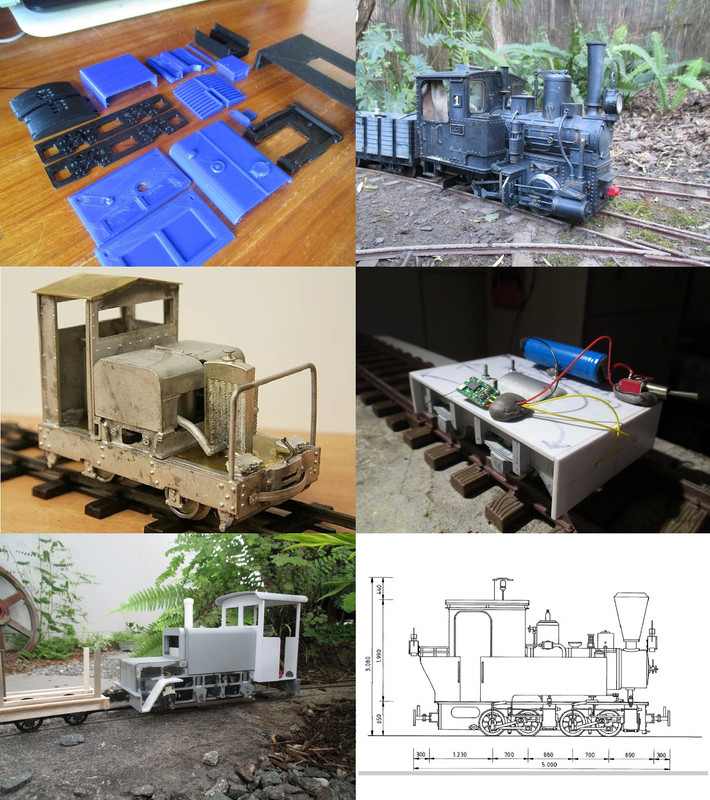 The Malcolm Moore will unfortunately need to be replaced. Trying to save the sides of the loco to reuse with narrower ends, top and chassis would be way more trouble than it's worth. Better off selling to cover the cost of it's replacement once complete. An opportunity for improvements, in any case..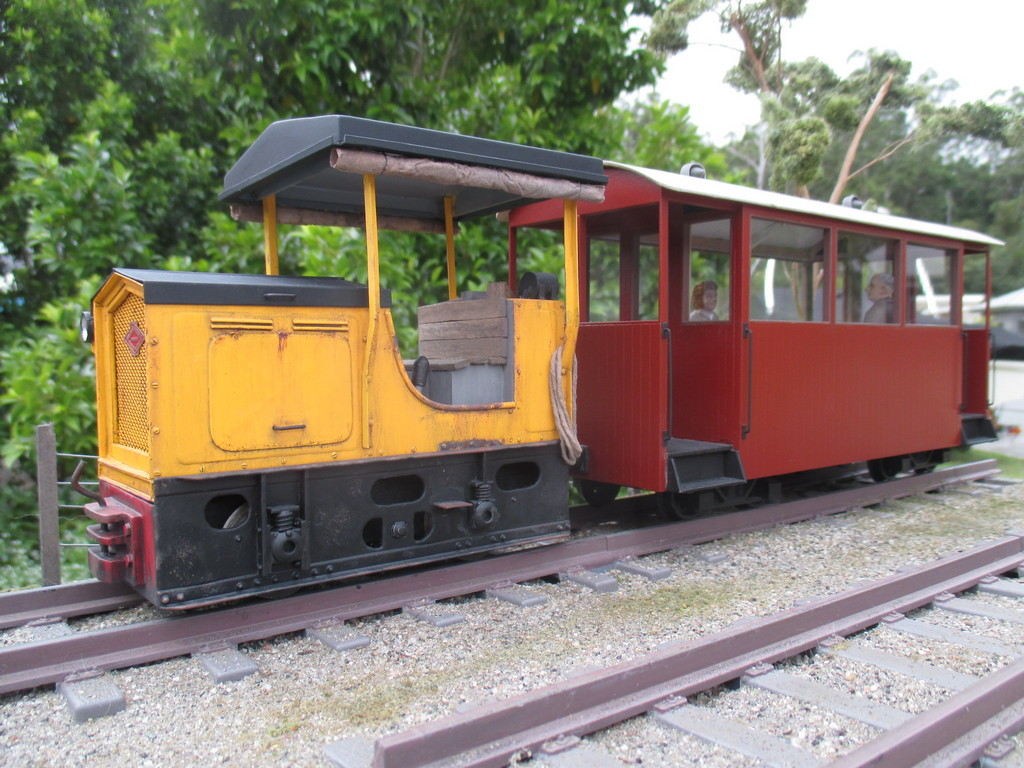 --------------------------------------------------------------------------------------------------------------------------------------------------------------------------------------------
On the rollingstock front, many are relatively easy to re-gauge. Most 4-wheelers just need the wheels pushing closer together. But the majority of the bogey wagons will need new bogeys - most of their bolsters would be difficult to accurately shorten and I'm doubtful of the resulting durability..
This is also a good time to finally knock out the stalled program of lowering ride and coupling heights to a more uniform (and realistic for cane tramways) height of 20mm above railhead.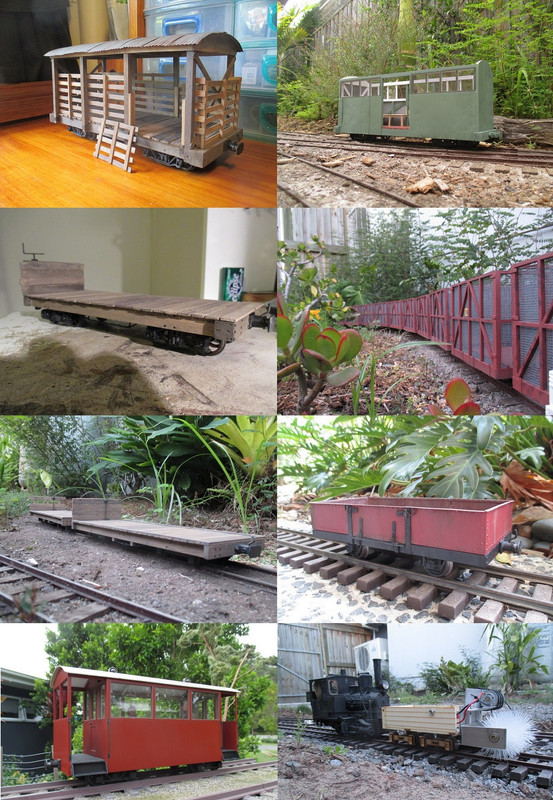 Other wagons are much older builds and repainted toys that just aren't up to scratch anymore. They'd make good "filler" stock, but I'm not looking to pad-out train lengths. Two of these have Roundhouse bogeys, the bolsters of which can be shortened and retain their strength of attachment to their sideframes, so I'll likely rob those wagons of their bogeys for the "nice" rollingstock.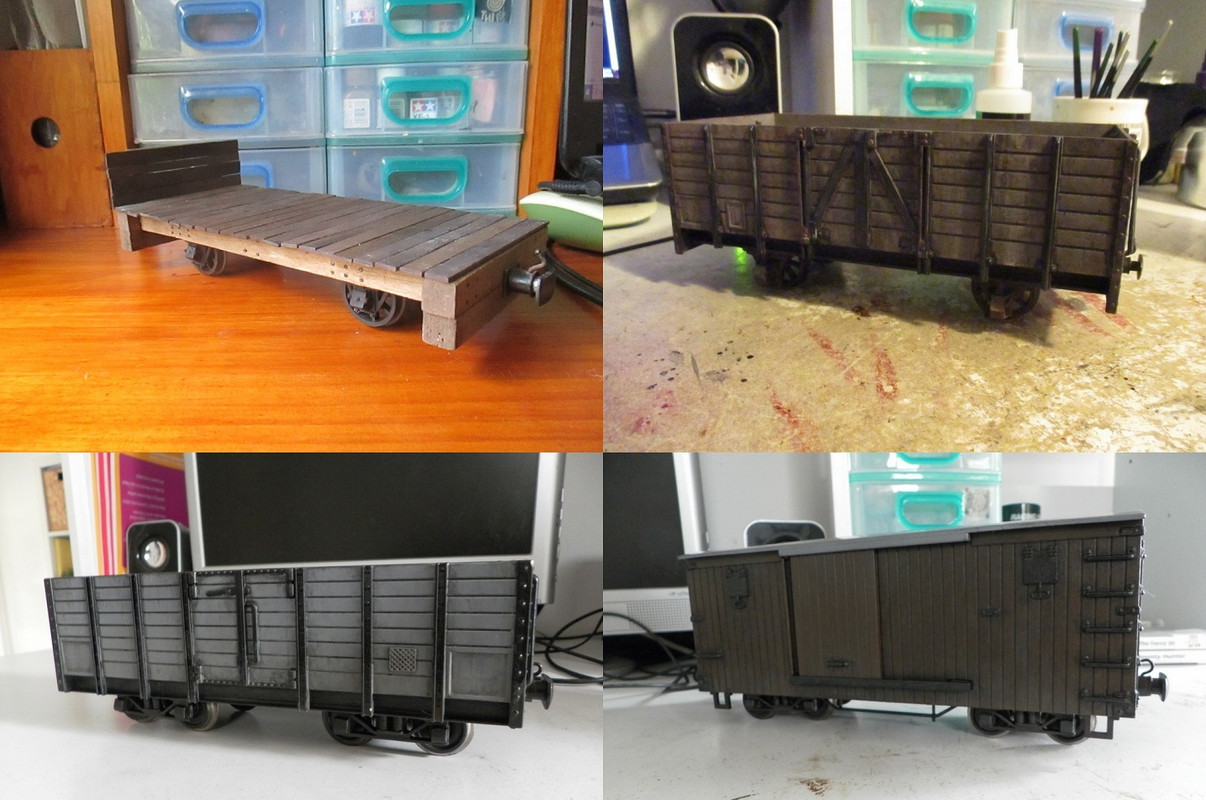 Some wagons have already been sold off. The coaches were some older IP kit-builds that, while tidy, were way behind in terms of detail - I'd rather scratchbuild something unique. I was happy with my Binnie skips and log bolsters, but pushing the skips' wheels closer together would've looked strange, and converting the bolsters simply wasn't practical.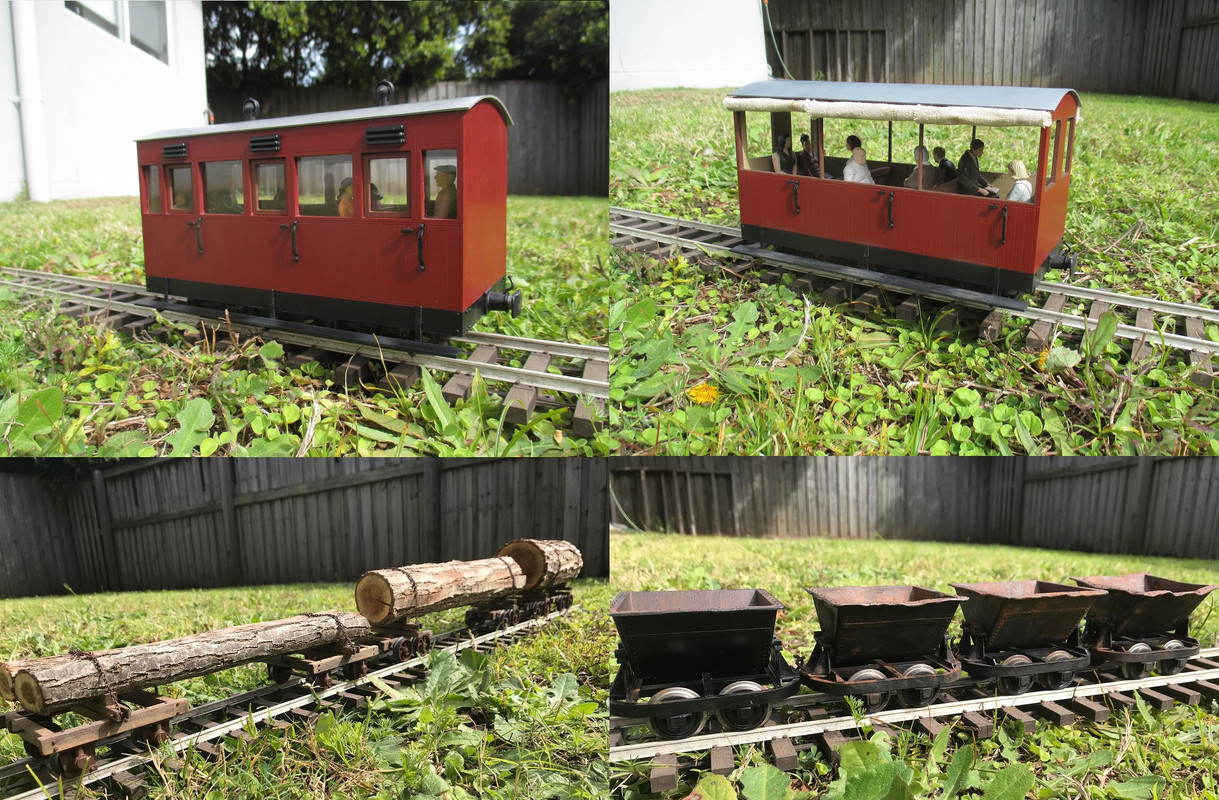 The rarely-seen Delorean was around 60mm gauge, supplied as a static 1/24 kit. Just getting it to fit on 45mm gauge was pushing it - forget SM32!
Another for the sell pile. I suppose this storage/display diorama will need regauging too.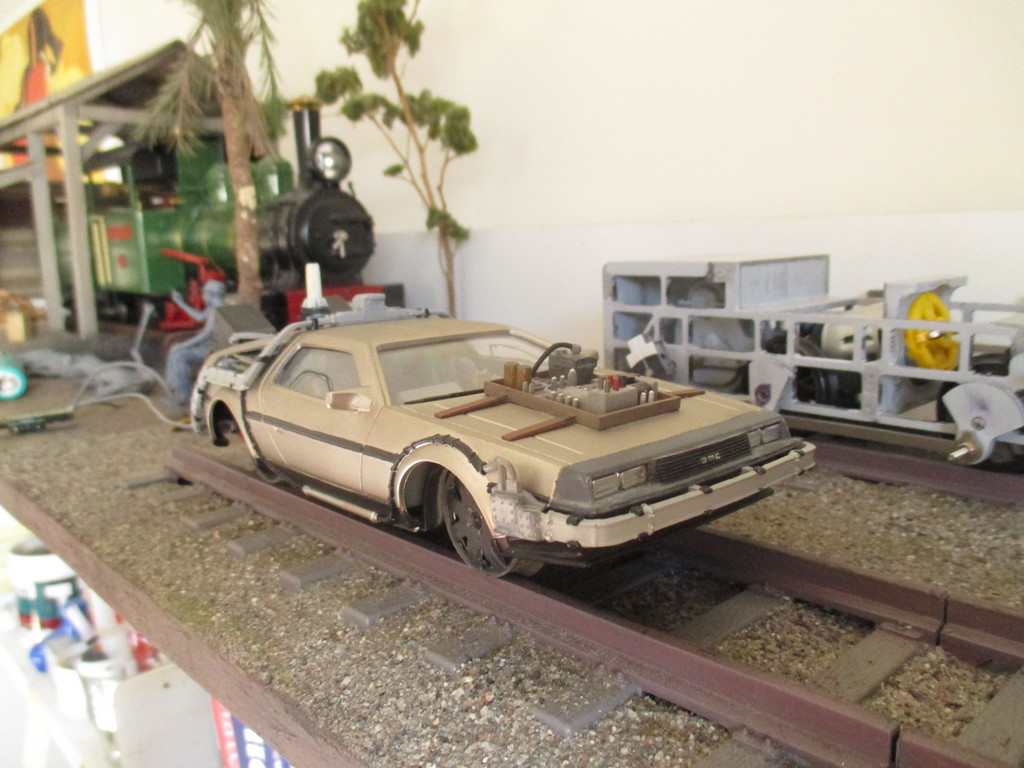 The Zecar guard's van will take some work to regauge. The Zecar molasses tank (that exists only on this sticky note!) was designed with gauge conversion in mind for visiting other lines. The The toolbox wagon under construction uses the same design, just with a different body.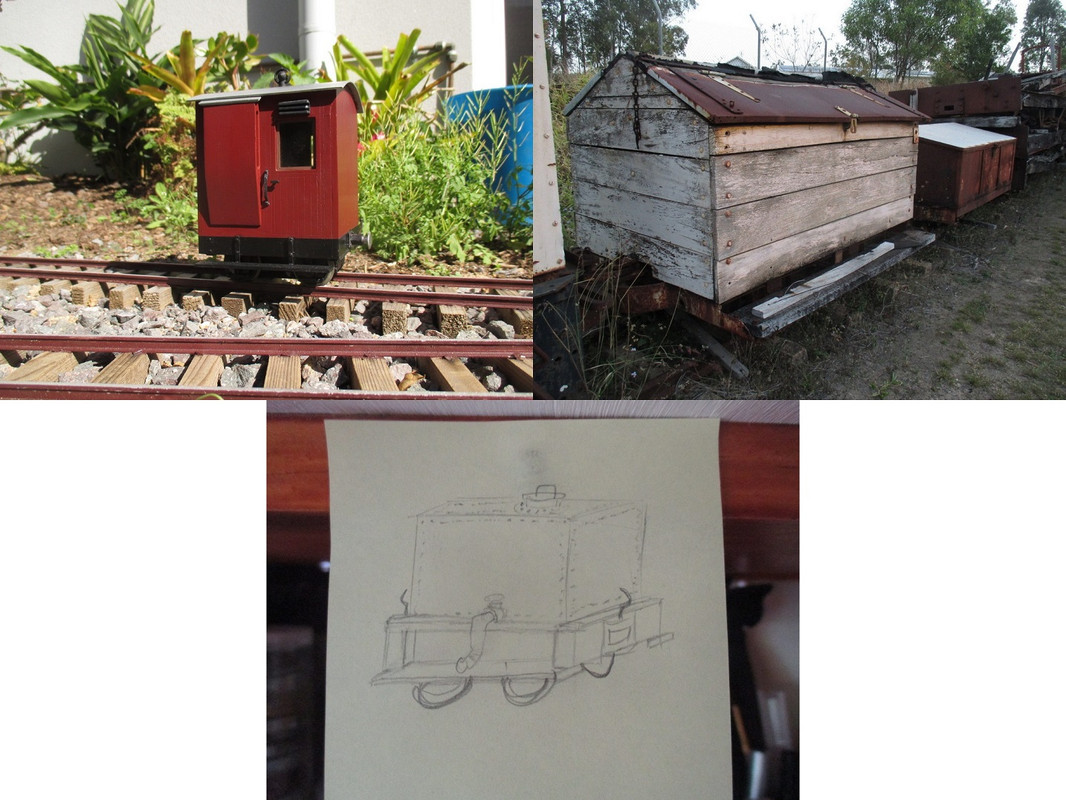 Mid last year, much of the track was sold off to a local mate, and most of the points to Tropic Blunder of this forum. I had wanted to put the money straight into 32mm replacements from the UK, just to get it done and stockpiled. But the ancient rolling money pit - also known as my car - has required the requisition of those funds.
I did luck out and manage to get five sets of Peco SM32 points from the UK through a farcebook group, for half the usual used price.
Later, I had to pass up a huge bargain lot of track that would've rebuilt my stockpile (and then some), because someone's wheels needed sandblasting..
Plus side is 32mm track comes up for cheap in the UK far more often than 45mm does. And I'm in no rush.
--------------------------------------------------------------------------------------------------------------------------------------------------------------------------------------------
Anyway, that's a black hole of work to do, nothing for it but to get stuck in and make it happen. So in early September of last year, when I was waiting for car parts from Yankeeland, I figured I'd start with the new wholestick cane trucks. I knew they'd be the most tedious, and wanted to get them knocked out first.
Each truck must be broken and apart at the glue joints and not the timber. Levering with a screwdriver, sometimes tapping with a small hammer to shock superglue joints. Once back into components, all dried glue is scraped away so the parts fit tightly again. Axles removed from wheels, shorten with angle grinder, cleanup with bench grinder, refit wheels. Then, glue the frames back together on a new assembly jig. I'd planned on new and more accurate jigs for future batches anyway..
Re-drill and pin the joints where needed, superglue anything I've broken, and touch-up the paint once all are done.
In a week, I got 10 out of 30 trucks converted, along with 3 of the 4 navvy trucks. Not much more painful than building them the first time, I just watch stuff on the computer while I work. I seriously looked at building these to 32mm to begin with, but stayed with 45, and a feeling I'd probably regret it.
I did order replacements for my Binnie skips, though. And the change of gauge now means I can make use of Binnie's Hudson bogey sets, something I've always wanted to do.
Having said all that, I think you'll agree - the effort and cost are temporary, the results are permanent.